WHEN LAYOFFS robbed the Chronicle of veteran copy editor Bill Pates, we thought first of how readers would never know how much the editorial pages would miss his honesty, diligence and institutional memory. And then we remembered how the sanctimonious moralists of the masthead had rewarded his 35-year service. Four years ago, Bill was dragged from quiet anonymity into public humiliation, a well-publicized suspension and the insidious implication that he had been a harlot and not, as mandated by the poobahs of the front office, a certified eunuch.
In spite of the colorful distinctions drawn by the late New York Times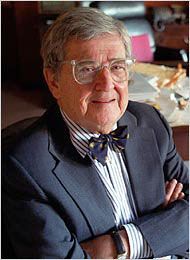 editor Abe Rosenthal
(at left)
, many designated leaders of news journalism don't trust the working stiffs to put aside preferences, professionalism and personal opinions when reporting, editing and illustrating the news.
That's why the Chronicle banned writer Rachel Gordon and photographer Liz Mangelsdorf from working on the gay marriage story after they married each other. (Heterosexual mates were not so restricted.) That's why Henry Norr, who covered personal tech issues, was suspended after his arrest in a demonstration against the Iraq war. Moreover, he had donated $1,000 to the Green Party in 2002. (It was unclear about how his anti-war activities would taint his stories on "personal technology.") That's why Bill Pates, despite an unassailable reputation for fairness and balance, was sent (briefly) to purdah for donating $400 to the presidential campaign of John Kerry and smaller donations to District Attorney Kamala Harris and Supervisor Tom Ammiano.
><

IN A REMARKABLE demonstration of Pecksniffery, editorial page editor John Diaz was quoted as saying, "It would be a concern to have somebody who is involved in selecting letters make what amounts to a public demonstration of support for a particular candidate."
In his unsigned editorials, of course, Diaz himself is paid to make public demonstrations of support for politicians (the Chronicle endorsed Kerry, as did 8 out of 10 voters in San Francisco).
Grade the News, a now-defunct media "watchdog" associated with San Jose State, gave 15 minutes of ill fame in 2004 to Pates by rummaging through database lists of political donations.
The names of 143 journalists were then announced with the smug satisfaction of a prosecutor listing suspects in a Mafia roundup. They included Mercury sports editor Rachel Wilner, Contra Costa Times arts critic Robert Taylor and Chronicle research librarian Kathleen Rhodes (since retired), who gave $200 to the campaign to fight Proposition 22's ban on same-sex marriages.
Ironically, Grade the News "project director" John McManus confessed that he gave $20 to John Kerry – but he didn't think it was a conflict of interest because the watchdog group is non-partisan. In that case, why did he list the sports editor, arts critic and research librarian as persons of interest?
><

MAKING a political contribution is a form of activism, the AP was told by Poynter Institute's house ethicist, Bob Steele. "The standard should apply to all those who practice journalism."
The standard doesn't seem to apply to Dean Singleton, Will Hearst, Phillip Anschutz or Rupert Murdoch, nor should it. Even the corporate moguls of newspaper chains have basic rights of citizenship.
Most of these rights are denied by conflict-of-interest codes that many newspapers have promulgated for their staffs but not, of course, for their owners. All political donations are banned for journalists at the New York Times, the Chicago Tribune and scores of other newspapers who lack confidence in the integrity of their staffs.
The Chronicle code of ethics, written in 1999 and recycled in 2006, is aimed at "employees," not "employers." It's a masterpiece of double-talk.
"The Chronicle does not forbid employees from engaging in political activities but needs to prevent any appearance of any conflict of interest," it says. "Political involvement could include campaign contributions, volunteer activities, public endorsements, displaying bumper stickers or posters, banners and the like." What's left?
Nobody denies that newspapers should take care to avoid "conflicts of interest," but the "conflict" should be narrowly defined. What's more, if Rachel Gordon can't write about gay marriage, which is an insult to her integrity, should ex-Marine John Koopman write about the Marines? Isn't it a conflict of interest if the top editors of a San Francisco paper actually live in San Francisco? (No problem; they don't.) Should elephant lovers write feature stories about the circus but ignore the elephant acts?
><

WHERE do we draw the line?
Instead of questioning the integrity of the staff people who go out into the real world to report the news, the editors in glass offices should do something about legitimate complaints about the newspaper's inability to separate news from opinion. Is a dual mug shot the only warning to the unwary reader that the Chronicle's Matier and Ross column, unlabeled as opinion or analysis, is a hybrid of news and comment presented without the customary rules against editorializing. Does the "Advertising Feature" in 12-point type shield the reader from assuming that the story about a new car is journalism by the rules, not advertorial puffery by a press agent? Is a news organization obliged to inform the public about the distinctions between opinion and straight news?
Okay, some conflicts are real. In most cases, the readers should be so advised. In some cases, the writer or editor should volunteer to work on something else. But the underlying assumption should be confidence that news journalists are ethical, conscientious and de-tached when they check their politics at the cityroom door.
When the late Abe Rosenthal exchanged his editor's chair at the liberal-leaning New York Times to become a pundit with his own column, friends and enemies alike expressed real surprise that his personal politics veered toward the neoconservative views of his lunch crowd – William Buckley, Irving Kristol and their friends. Press critic Charles Kaiser said Abe never let his right-wing preferences affect "the best news judgment of any editor I have known."
><

BACK on the battlefront, Henry Norr sued, reached a settlement and didn't return. (Full disclosure: We admired his principled outrage at the Iraq war.)
Rachel Gordon is covering public transit, but isn't she involved in a conflict of interest? After all, she is a Muni patron. (Full disclosure: She was a journalism student at SF State.)
Bill Pates was soon unsuspended. He was reassigned to the sports copy desk. He returned to the letters desk after intervention by the Newspaper Guild, which reminded the frowning neo-Puritans that state law restricts employers from forbidding political activity by employees when they are off work. Then he quit. (Full disclosure: He is a respected friend.)
For the editors worried about the perception of conflict of interest, the solution isn't complicated. Just post a big sign in the newsroom with an admonitory message from Abe Rosenthal.
When his reporter Laura Foreman had worked for the Philadelphia Inquirer, she had an affair with a state legislator involved in a money scandal. Rosenthal fired Foreman. She later married the politician – after he got out of jail.
According to Kaiser's version of an oft-repeated quote, Abe said, "I don't care if my reporters are fucking the elephants – as long as they aren't covering the circus."
Lynn Ludlow

The Geezer Gazoot
tardytimes.com
July 2008