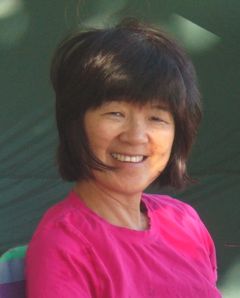 Joy Chong-Stannard

Jack Hall:
His Life and Times
JACK HALL put the union label on paradise, but the memorable labor organizer from Frisco is now unremembered – even in Hawai'i.
Joy Chong-Stannard wants that to change.
A prolific producer of documentaries for public television, she works quietly without letup on biographies on people of significance in the history of Hawai'i.
For nearly a decade her family has camped with ours after a chance meeting on Kaua'i, but back in Honolulu her job is no vacation.
Last year she produced, directed and edited "Jack Hall: His Life and Times." It was shown Feb. 28 on KHET, the PBS station in Honolulu. Despite its uninformative title, the documentary must have surprised a new generation of Hawaiians who take for granted their union pay, union health benefits, union pensions and, perhaps of even greater importance, the political influence of the union movement.
><

EVEN MORE surprising is how Jack Hall (below, right), regarded by labor writer Dick Meister as "one of America's greatest labor leaders," is unheralded these days in San Francisco.
After returning in 1969 as international officer of the International Longshore and Warehouse Union, the 56-year-old union militant was killed by a stroke in 1971.
"When Jack Hall died," Meister writes, "flags were flown at half-staff throughout Hawai'i; longshoremen closed the ports of San Francisco, Los Angeles and San Diego for 24 hours, and thousands of other workers in Hawai'i and along the west coast of the United States and Canada also stopped work to show their respect."
Joy's documentary is particularly timely 37 years later, with the labor movement in retreat, the sugar cane plantations turning into condos and the tourist industry fighting the unions.
The documentary is sponsored and funded by the Center for Labor Education and Research at the University of Hawai'i-West O'ahu, where Joy moved after a long career as a PBS producer. The center's Chris Conybeare is executive producer.
For the script, Joy teamed up with playwright Victoria Nalani Kneubuhl (her first novel, "Murder Casts a Shadow," a thriller set in Honolulu in 1934, was just published by University of Hawaii Press). The writer has been Joy's regular partner (with Craig Howes) in "Biography Hawai'i," a series that began with a documentary in 2002 on Maiki Aiu Lake, the noted hula teacher.
><

THEIR latest project brought Joy and Victoria last year to San Francisco, where Jack Hall spent the last 18 months of his life. From the ILWU archives they documented a story that began for Hall in 1934.
A young merchant seaman appalled by the poverty he saw in Pacific ports, he had been working as a stevedore in Frisco during the dock strike and general strike that followed.
It broke the power of the shipping industry, defied the newspapers (except for the News) and clinched Frisco's reputation as a union town. It also inspired Hall with the leadership and progressive values of charismatic Harry Bridges, head of the International Longshore and Warehouse Union.
Bridges sent his disciple as a Sailors Union organizer to help unionize workers in the sugar cane fields and the docks at Port Allen on the west side of Kaua'i. When Hall stepped down the gangplank in 1935, the territory's economy (sugar, pineapples, shipping) and politics (mostly Republican) were largely ruled by the landowners unpopularly known as the Big Five. One strike led to another, and another, and Hall spent a quarter-century as the ILWU regional director. (Only his friends knew that his full name was John Wayne Hall. Both were heavy drinkers, but he was an activist, not an actor.)
><

AS JOY told us, "Jack's story is intertwined with the landmark events that helped change Hawai'i from a feudalistic society to a modern democracy."
The Honolulu Advertiser, which 60 years ago called him a Communist, treated him with great respect in a February story that described Joy's film and added, "Hall's contributions have been forgotten by all but the oldest of Hawai'i's union veterans."
On the other hand, the six-month dock strike he led in 1949 is as memorable in Hawai'i as the waterfront strike 15 years earlier in Frisco. The ILWU and its regional manager were denounced by the shipping industry and sugar cane moguls as Communist-controlled.
As the Red Scare spread from the mainland to the islands, Hall was one of 10 men convicted in 1953 under the Smith Act. It made it a crime to belong to an organization purported to "advocate" the violent overthrow of the government. They were free on appeal until the Supreme Court in 1957 tossed out the show-trial convictions and said "advocacy" was free speech.
And then, improbably, Hall was no longer an outcast. No politician could ignore the ILWU's endorsements. Appointed to various boards and commissions, Hall must have found amusing his new position at the table of the Establishment.
Promoted as international officer by Bridges, Hall came back to San Francisco's ILWU headquarters, bought a house on Yerba Buena Avenue and spent time with his family (his daughter would marry politician-attorney John Burton, the veteran Sacramento legislator).
><
IT WAS NO coincidence that Joy would need to visit San Francisco last year to scout out Hall's last years, but then what do we call the link with Kenny's assistant soccer coach? One of Joy's main sources was Eugene Vrana, ILWU librarian and associate director of education. He is a volunteer coach for Kenny's (championship) team at Lowell High School. It seems that everybody is connected.
The library provided more than 1,500 photographs to Joy and Victoria. (We did our part by taking them to dinner at The Stinking Rose, with its all-garlic menu.)
Joy was quoted in the Advertiser as saying Hall was held in respect by his adversaries.
"I think the honesty of Jack Hall rises to the top of things," she said.
No wonder he was soon erased from memory.
"He breaks the unfortunate stereotype that labor leaders have," Joy said. "He was well respected by the people who did not necessarily agree with him."
Sooner or later, Joy's documentary on Jack Hall will be shown on KQED in San Francisco. We'll try to let you know.
Lynn Ludlow

The Tardy Times
tardytimes.com
August 2008