August 2008

MANY ADMIRED her fire, said her sister, but in the end Regina (Gina) Warren died without family or friends.  
   "Why were so many people unable to help Regina, who spent so much time helping others?" said Georgiana Sullivan. "Why were the do
ctors unable to help relieve Regina's constant pain?"
   So many questions. No easy answers.  
   She died of neglect and indifference.  
   Family and friends have tried to piece together this account of what led to the death on April 6 of a beautiful woman with a big heart and big dreams.
   It begins in the mailroom and supply room of the San Francisco Chronicle, where Regina (known as Gina) worked as a copy clerk and editorial assistant for 22 years.  She was strong. She did lot of the heavy lifting.
   "She injured her shoulder while doing the grunt work," said her friend Dorothy Kantor, now retired from the Chronicle. "She had unsuccessful surgery and was in obvious pain."
    She continued to do the heavy lifting.
   "Gina would break out in beads of sweat as she lifted heavy boxes of Xerox paper, numerous mail containers filled with letters, hundreds of pounds of press releases and hard-bound books sent to the paper for review," Dorothy said. "She kept several cold-pack compresses in the freezer. She would strap them over her shoulder. Day after day. Week after week. The pain got worse. She said it radiated across her neck, upper back and down her arm. She complained the pain medication didn't help."
    The  insurance carrier wouldn't pay for a second opinion, Gina told Dorothy.
    "She eventually had a second operation. Gina said she was in worse pain after the second operation, and physical therapy wasn't working."
    Gina told Dorothy: "Please listen to me while I can still make sense. When the pain medication hits my brain, I know I don't make any sense. I need a doctor who can help me with this nerve pain in my arm. It is so bad I can't sleep, and it is making me become someone I'm not supposed to be."
      Gina said she was going in for a third operation.
    "She said she was on strong pain medication, which didn't diminish the pain.  When we talked, Gina tried hard to remain lucid. But the drug-induced paranoia would take over. She called these happenings to her thoughts 'pain-medicated-enemies-in-my-brain.' "
    She moved out of the apartment in El Cerrito where she had lived for 20 years. Dorothy said Gina seemed to believe nameless enemies were out to get her. She lived in motels and with people she knew, or thought she knew.
><

ON APRIL 3, 2007,  someone drove Gina to Pinole, a suburb a few miles up Interstate 80 from El Cerrito. She was dropped off at Doctors Hospital, where she had been a frequent patient. Evidently her condition couldn't be treated there, so an ambulance rushed her 65 miles to Palo Alto and the specialists at Stanford Hospital.
    She didn't tell anyone. Perhaps she couldn't. A massive infection, according to the doctors, sent her to intensive care.
    To the hospital, she was a very sick female African-American, possibly homeless. Her only identification was a name and her former address in El Cerrito. If her file came with her to Stanford, nobody bothered to look for names to be notified in case of serious illness. The number could have been obtained easily from Doctors Hospital, but nobody phoned.
    She was alone.
    Her lungs gave out two days later. On April 6, 2007, she died. She was 45.   
    At the time, nobody knew.                                             
><
MEDICAL terminology, but little more, describes what happened. In the death certificate from Santa Clara County, the immediate cause was given as "hypoxia," the reduction of oxygen in the blood. This was caused by "pulmonary edema," when an accumulation of fluid in the lungs impairs breathing. Both were caused in turn by "sepsis" (infection), which is described as "gram negative rods and gram positive cocci (bacteria)."  The cause? "Unknown."
   A partial definition is found on the Web:
"Gram-negative sepsis is an increasingly common problem, with up to 300,000 cases occurring each year in the United States alone. Despite the ongoing development of new antibiotics, mortality from gram-negative sepsis remains unacceptably high. To stimulate earlier therapeutic intervention by physicians, a new set of broad definitions has been proposed to define the systemic inflammatory response characteristic of sepsis."
    The author calls gram-negative sepsis a "progressive, injurious process" that can lead "to such serious complications as shock, adult respiratory distress syndrome, and disseminated intravascular coagulation."
  The attending physician wasn't a greenhorn. Dr. Robert Scott Mitchell is a full professor of cardiothoracic surgery with an impressive string of publications. He listed renal (kidney) failure on the certificate as one of the "conditions contributing to death but not resulting in the underlying cause of death."
  The other is "Type B Aortic Dissection," a tear in the body's main blood vessel. This is probably the reason for the presence of Dr. Mitchell.
   Echo Velina Rowe, M.D, certified the death. The Santa Clara County coroner's office never scheduled an autopsy. This would have been standing operating procedure if Dr. Mitchell had blamed the death on drugs.
    The hospital's chaplain had no identification beyond a name and the address in El Cerrito. Police were asked to go to the last known address to search for someone that may have known her. Gina, however, had long since moved out. She left no forwarding address. So the cops evidently gave up. That was the extent of the search, so far as the family can tell.
   According the account from Stanford officials, Gina's remains were sent from the hospital on about May 8 to Cunningham's Affordable Burials. The company has a contract with Stanford Hospital to handle the unclaimed dead.
   Months went by while Gina, missing and unmourned, lay in cold storage.
><

ED AND GERALDINE Lewis of San Jose had come to know and love Gina when she worked with them in group homes for troubled boys. Even after she left El Cerrito, she kept in touch with Ed, who now works in homes for
disabled children. At one point, Gina mentioned that she had moved into someone's home. She gave Ed the number. On June 28, concerned that he hadn't heard from her, Ed picked up the phone, punched the number and asked for Gina.   
      "Oh, she died," said the woman. "Three months ago. In Stanford Hospital."
      Ed, stunned, kept his grief in check long enough to ask the woman why she hadn't informed him. He knew she had Ed's phone number, but she claimed she didn't have "enough information."  
      Ed immediately called Gina's sister,  Georgiana, a power company business administrator who lives in Reynoldsburg, Ohio. She phoned the woman.  
     She asked, "When did this happen, and why didn't you try to contact me or the family?"
     The reluctant woman did say, eventually, that her friend had taken Gina to Doctors Hospital in Pinole.
     But the woman somehow knew that Gina had been transferred to Stanford Hospital.
     Georgiana called Stanford Hospital.
     "There is no easy way to find out you have lost a loved one," she said.
     Someone at Stanford then confirmed that Gina had died . . .on April 6 !
     Georgiana was instructed to call the hospital chaplain, who reviewed the records. Someone had called Stanford Hospital, claiming to be her brother. He was told to come immediately because Gina's condition was serious.
     The "brother" never showed up. (Gina's three brothers live more than
2,000 miles away.) It may have been the man who dropped off Gina at Doctors Hospital.
     In growing distress, Georgiana was told by the chaplain that under California law, an unclaimed body must be stored for at least 30 days at the hospital. In Gina's case, that would be April 6 to May 6. Then the body can be transferred to a funeral home for no less than 30 days. For Gina, that would have been May 6 to June 6. At the end of those 60 days, an unclaimed body can be cremated. After 30 more days – June 6 to July 6 – the ashes can be scattered. That's what the chaplain said.
     We did the arithmetic. As of June 28, Gina had been deceased for much longer than 60 days.
     The chaplain called the funeral home. She was told that Gina's body had been cremated. Georgiana called her brothers.  
     On June 29, Georgiana notified Kathy Balles. She handles pensions and benefits for Gina's union, the Media Workers Guild. She notified editors at the Chronicle.
      The nightmare continued.
><

GEORGIANA called the funeral director.  Yes, he said, Gina had been cremated. He emailed papers to the family that needed to be completed in order to complete the death certificate.
      The bill was $881.
      The family had questions about the paperwork. Georgiana called the funeral director's cell numerous times. When he didn't call back, she called his office. A clerk said the body had NOT been cremated because it is "against the law to cremate someone without the family's consent."
      Georgiana immediately called the hospital chaplain and the coroner's office, questioning exactly what was going on.
      Not until July 3 was she notified by the coroner's office and the funeral home that they were wrong, that Gina's body had NOT  been cremated.
      Because of contradictory information from the funeral home, family members allowed themselves to hope, "Is it possible that Gina may not be dead and that somebody else was using her name and former address?"
     On July 9, Gina's brother William Warren began communicating with the chaplain and the coroner, to ask how they were able to be sure the body was in fact his sister.
     William asked the funeral director if he could identify Gina from her scars from shoulder operations. No, he said. What about fingerprints? Not feasible. After weeks of back and forth, William finally requested that a picture be taken and sent to him.
     In the week of July 30, a photograph of the once-beautiful face was mailed  to from the funeral director to William's home in Akron, Ohio.
     It was Gina.
     "I will never forget the day that the e-mail arrived as long as I live," wrote William. "I was sitting in my office at home when I opened it and I knew immediately that it was my baby sister. I hung up the phone and cried as I looked at what had become of my sister.  My mind was filled with memories – of growing up in Harlem and how we used to play on 116th Street."                                           
><
GINA'S death certificate wasn't issued until Aug. 2.
     The family requested that Gina be cremated and her ashes sent to William Warren. The package arrived on Aug. 10. Eight days later, Georgiana and brothers William and  Kirk Warren traveled to New York City. They scattered Gina's ashes in the northwest corner of Central Park, where as a girl in Harlem she played with her siblings.
      Not until mid-August, five months later, were rumors of Gina's death
finally confirmed to her friends and colleagues in the Bay Area.
      Many questions remain.
      Who dropped her off at Doctors Hospital without identifying Gina or himself/herself?
      Who called Stanford Hospital, identified himself as her "brother" and never showed up? Why did the various authorities do so little to find the next of kin of a woman who had lived at the same address for 20 years, worked at the same job for 22 years and had a California driver's license for most of that time?  What happened to her possessions? Her car?
      Why didn't the funeral director immediately suggest a photograph? Why did the family have to make the request?
      Finally, Ed and Geraldine Lewis stated Gina's medical records at Doctors Hospital had all her contact information. Why didn't Stanford Hospital check the records for next of kin?
                                                    ><
THE REPORT of Gina's death didn't come to friends and colleagues at the Chronicle until August.  More than 20 friends and Chronicle journalists attended a memorial service on Oct. 20 at a well-known downtown restaurant, John's Grill. Georgiana came from Reynoldsburg, Ohio; Michaela (Cooney) Lindsey from Puyallup, Wash.; Ed and Geraldine Lewis from San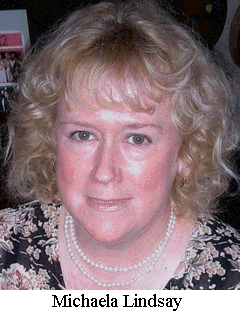 Jose and Harold Washington, a fellow youth counselor, from Oakland.
      The unanswered questions continue to upset Gina's family and friends, but the memorial gathering was a time for reflection on the achievements and strength of an exceptional woman who brightened the lives of everyone she knew.  
      "She could easily have been lost to the streets at a young age, but she was determined to survive," said Georgiana.    "Pursuing and obtaining a college degree, she was always working to better herself. Regina was feisty and strong-willed, and some might say she was difficult to get along with. But she had a big heart and was a very caring person. She worked hard to help troubled youth. She helped others in need."
      Her sister chooses to remember "our Regina" in a positive way.
      "We talked to Regina about accepting Jesus Christ as her Lord and Savior, and we believe she is in Heaven with Our Father God," said Georgiana. "No more pain, and no more suffering."
      Michaela, Gina's close friend at the Chronicle, said she prefers to remember the brilliant smile and quick intelligence of a  woman whose life was cut short by tragic confusion, pain pills, false friends and bureaucratic inattention.
See an obituary for
Gina Warren
in Thirty. This report was written by Lynn Ludlow in collaboration with Georgiana Sullivan. No further information has been forthcoming from Stanford Hospital or Doctors Hospital.
The Geezer Gazoot
tardytimes.com
July 2008