N.B. Yes, a few items are relatively new, but expiration dates should have sent most of these newsnotes to the trash file. It wasn't

their

fault that Geezernotes had begun to wither with age. Keep in mind that living people, unlike the colleagues in
Thirty
, may have moved on since we collected these items about colleagues from the pre-Fang Examiner.
SHE COULDN'T WAIT to leave the islands. As an adventurous young woman who wanted to see the world, the supremely gifted
Annie Nakao
said aloha to Honolulu and hello to a long newspaper career of passionate concern for the people in her stories. She brightened the pages of the Examiner and, after the 2000 merger, the Chronicle. After she retired, she waited in Oakland for a year or so while her daughter Molly completed her
first year at UC Santa Cruz. A single mom, she commuted to Hawai'i to care for her dad. After his death, she decided to return permanently to the balmy breezes and fresh papayas of her birthplace. But her new life got her to thinking.
In a review of Sara Davidson's coming-of-age book (senior category), "Leap! What Will We Do With the Rest of Our Lives?), Annie reflects on the 78 million Americans born between 1946 and 1964."I'm the advance guard of this wave," she wrote earlier this year. "In September, I'll turn 60, and nothing about aging – the sagging jowls, graying mop, or fading memory – is easy to accept. But if nothing more, reading Davidson's book lets you know you have plenty of company.
"I know about transition. After a career of nearly 30 years as a news reporter, I took a company buyout 18 months ago. Just like that, I found myself in a world with no deadlines, no story conferences, no editors, and no paycheck. There's something deeply delicious about waking up in the morning and realizing no one has control over your life anymore. . . .
"With that freedom comes uncertainty and sometimes downright terror if you're not financially fixed for life (and most of us aren't). My college-age daughter still needs financial help, and there are daily expenses I'm trying to keep down. Yet I'm lucky to have what many Americans can no longer expect: a pension. I'm not at the point of writing the great Hawaiian novel, but something will catch my eye sooner or later."
Annie has been writing for Consumer Health Interactive.
"And NO," she told former head librarian
Judy Canter
, "I ain't working for any paper ever ever again."
A related message came from Judy, who also disproved the notion that you can't go home again. From Appleton in Minnesota's Fox River Valley, she writes, "I like it here a lot. No surprises, except the restaurants are even WORSE than I imagined. I liked winter, so I guess the change of seasons is part of me despite being away for 40 years." Email her at
judycanter@sbcglobal.net
.
><
D
AN BREKKE
, another of the casualties of the dot-com bust, is peddling free-lance pieces and pedaling his bicycle. He planned to spend August on the backroads of France . . .
Leslie Phillips
, the onetime Examiner copy clerk, joined USA Today and covered Congress. For years she has been a spokeswoman for Joe Lieberman, the ex-Democrat who spoke at the GOP Convention in favor of nominee John McCain. Leslie's fans argue if she works for him, he can't be all bad. . . A Chronicle story last December by
Bob Egelko
describes "a former employee of a San Jose aviation company that is accused in a lawsuit of helping the CIA fly prisoners to overseas torture chambers." He quotes a declaration by
Sean Belcher,
a technical writer for a Boeing subsidiary, Belcher quit after hearing a company official tell new employees about "extraordinary rendition flights" which, he said, were "torture flights." Egelko couldn't be expected to know that Sean is the son of the Examiner's late, great rewriteman,
Jerry Belcher
, and the wife who survives him,
Nancy
. She says Sean was out of work for awhile but is now doing well.
><
LARRY HATFIELD
(below, left), assured by the medics that he has beaten back the cancer that struck his esophagus, has returned to his travels with Georgia Hesse: A cruise to Apaculpo, a visit to Portland ("great city") . . . He reports that John
Hurst has moved to Oregon. . . In August,
Chris Gulker,
now a product manager for Acrobat, posted on
www.gulker.com
the latest news of the brain tumor that was diagnosed in 2006. The photojournalist-turned-technophile wrote: "The cancer is responding well to treatment so far: the tumor has stopped growing, and even shows signs of necrotic cells. The side effects from the steroids, anticonvulsants etc. have left me kind of a wreck, physically, but I'm pursuing a rehab program and taking other measures to get some quality of life back."... Sports desker
Glenn Mayeda
recovered last year from heart surgery after an infarction (a spelling we learned the hard way) in June 2006. . .
Dick Rogers,
who was hospitalized in April 2007 for a double-bypass operation, returned in July to his job as the Chronicle's reader representative. "I don't have the enough energy yet,"
he mentioned at the Tuesday geezer lunch at the Tempest. "But it's getting better." In September, however, he quit the paper. (See
Geezernotes:Chronicle
).
Bill Boldenweck
, the best storyteller of his generation, has been frustrated by an ailment that interrupts his speech with hesitancy, memory lapses and inarticulation. We have a lot in common. . .
><
DAN NORTH
, a rewriteman in the 1960s, still helps out as emeritus editor of Local 1199 of the health workers union, and he teaches a class in the news media at CCNY. He returned for the sixth summer to leave his home in Jersey City to walk the hills of Provence with his partner, NLRB attorney
Tara Levy
. . . Dan's ex-wife,
Maggie
, had both her knees replaced last year – and when she arose for the first time from the hospital bed, she broke her right leg. More surgery. Dan visited her in New Hampshire and reported, "She's in good spirits and mending nicely." . . .
Rob
and
Debby Morse
now live in Terra Linda . . . After Oakland Post editor
Chauncey Bailey
was assassinated,
Greg Lewis
(at left)

reminisced about his days at the Examiner when Bailey worked for the Oakland Tribune. They didn't try to scoop each other. Far from it. "We traded off being good guy-bad guy," wrote Greg, now a columnist for the Sun-Sentinel in Fort Lauderdale, Fla. "We'd debate about who delivered the question that made the person squirm the most."
><
CAROL NESS
, whose shining personality illuminated the Examiner for many years, began as a copy clerk. After returning from an apprenticeship at the Union Democrat in Sonora, she became a stalwart
editor on the copy desk and city desk before she switched to reporting and writing. She wrote with style, imagination and lucidity. Then she was gone. Her new job is at UC Berkeley. "I'm a reporter for an obscure weekly publication called the Berkleyan that circulates to faculty and staff," she wrote. "I'm a cog in Cal's mighty propaganda machine." (At right, Carol with Rob Morse. )
><
WE KNEW them when:
Larry Kramer
, the onetime Ex cub who returned as executive editor, left in 1991 to start DataSport. One thing led to another, and the prosperous founder of MarketWatch.com has een since 2005 the boss of CBS Digital Media . . .
Jim Willse
, the AP alum who took over the Ex city desk in the mid-'70s before he was anointed managing editor, went next to the New York Daily News as editor (and was quoted as saying he wanted at least one front-page headline every day to include "win," "free" or "sex"). Since 1995 Jim has been editor of the Star-Ledger in Newark. His Ex alums include the editor of the editorial pages,
Fran Dauth,
who had been associate managing editor at the Philadelphia Inquirer, and
Charles Cooper,
managing editor for news production . . .
John A. Kirkpatrick III
, a night city editor who became the Ex's associate managing editor for news, has been since 1991 the editor of the Patriot-News in Harrisburg, Pa., and since 1997 the editor-publisher . . .
John Arthur
(sometimes called "Boog" for his faint resemblance to baseball player Boog Powell), was also a night city editor after coming from the little Pittsburg Post-Dispatch. He decamped for the LA Times Orange County edition in 1986. After moving downtown, jumping up the ladder and losing "Boog," he was named one of the two managing editors in 2007. In April, the latest editor (four in three years) appointed John as executive editor of the LA Times. . . The ex-Ex refugees also include
Maura Dolan, Pete King
and
Tim Reiterman.
><
GALE COOK
, who moved up to El Macero (near Davis) when he was promoted (that's how the Gazoot sees it) in the 1970s from city editor to a statehouse reporter in the capital bureau, has moved to the Terra Linda district of San Rafael. He and
Helen
were invited to lunch in January at the Mira Vista Country Club high above El Cerrito. The host was
Art Agnos,
the former mayor and legislator ("never again," he swears), who said he wanted to thank Gale for his fairness and honesty. (See
The Fishwrap Crisis
.) .. . .
Dave Mitchell
, an Examiner reporter before he took over the Point Reyes Light and won a Pulitzer for exposing the hypocrisy and misdeeds of Synanon, has declared an armistice with
Robert Plotkin
, who bought the weekly from him. It ended two years of lawsuits and countersuits . . .
Dave Dayton
, the Chron's "editorial systems manager," is moving back to North Carolina and a 5-acre forest with a simpler kind of systems management.
Jim Finefrock,
f
ounding editor of the Chronicle's highly regarded Insight section, had been a skillful writer, city editor and editorial page editor at the Examiner. He may have been surprised at the pink slip that rewarded his three decades with Hearst, but at least he got a gold watch from his friends at a summer gathering in his honor at the Lafayette home of
Jim Heavey
and his wife
, Esther Herrera.
Former colleague and co-host
Bob Hollis
said it cost $12 but was, of course, priceless as an enduring symbol of corporate loyalty. In the photo at left, Jim is stupefied at the thoughtful gift. Behind him are
Gail Bensinger, Art Agnos
and
Larry Bush. Lynn Myers,
Jim's able editor and layout expert, was also a co-host
.. . .Ed Beitiks' widow, Kathy,
writes that "arthritis is roaring through my hands," but in a year or so she can retire from the media office at the State Bar. She works with
Nancy Dooley McCarthy.
><

OUR OWN
Sally Lehrman
, who has accomplished a lot in the years since she left the Monarch, is now ensconced at Santa Clara University as its first Knight Ridder San Jose Mercury News Endowed Chair in Journalism and the Public Interest. (It's a good thing her job was endowed before Knight Ridder lost the Mercury News and the rest of the once-prosperous newspaper empire.) The university's announcement said, "Lehrman has distinguished herself as a writer and reporter on science and society for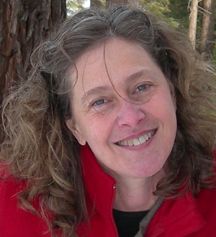 outlets including Scientific American, Nature, Health, Salon.com, and the radio documentary series The DNA Files, distributed by National Public Radio. She has been honored with a John S. Knight Fellowship and shares a Peabody award and Peabody/Robert Wood Johnson Award for excellence in health and medical programming, and a Columbia/Du Pont Silver Baton. She is no stranger to academia, having written chapters for scholarly textbooks on covering the sciences.
Sally is quoted in a rare (for her) outburst of instiutionspeak: "With its emphasis on social justice, Santa Clara offers a rare opportunity to merge my passions for practicing depth journalism, teaching students to report in a thoughtful way, and advocating for a news media that serves a just and democratic society."
Sally is author of "News in a New America" which advocates "an inclusive news media" just as diversity efforts have been largely abandoned during cutbacks and mergers. "She has led diversity efforts in the Society of Professional Journalists as a national board member and is a University of Southern California Annenberg Institute for Justice and Journalism Senior Fellow on race," said the press release. She expects to develop a book on genetics and race.


MARLENE BAGLEY, Jack Lynch, Glenn Kramon, David Johnston
and
Mia Navarro
are still at the New York Times, last we heard. . .
Jim Houck
is a senior editor at the Visalia Times-Delta;
Pete Bhatia i
s executive editor at the Oregonian;
Mike Gray
is features editor at the Atlanta Journal-Contitution . . .
Walt Gibbs
has settled down for the duration in Gamleveien, Norway, where he does a lot of editing and translating in the home he shares with his Norwegian wife,
Anna Clara.
Their baby,
Hannaleah, i
s all of 18 years old – and she chose to study art design in New York City. . .
Dorothy Kantor,
the efficient editorial assistant with far more smarts than any of the editors who treated her dismissively, enhanced life at the Examiner before she dismayed her friends by moving to the Chronicle. Both alumni associations can claim her now that she's retired. But they'll have to visit her in Medford, Ore. Her new home is not far from her grownup niece, one of the three young children Dorothy mothered for seven years while her sister struggled with personal problems. Hard to believe: Dorothy is 65 . . .
Jim Kelton
, who spent years freelancing for the L.A. Times Syndicate, is back home in Arkansas. He is a Saturday night DJ for the University of Arkansas student radio station in Fayetteville, where he grew up, and he associated with the university library. "I'm the guy who wrote the entries on Albert King, Son Seals, Luther Allison and assorted other itinerant and armed and dangerous entertainers who are soon to be celebrated in the newly published 'Encyclopedia of Arkanasa History and Culture.' It's online now. As Casey Stengel said, "You could look it up." ...Former Examiner artist
Lance Jackson,
one of the casualties in the Chronicle massacre, exhibited his "neomodern portraits" in November at Vintage Gallery in Berkeley.
><
EXAMINER DEATHS: Bruce Hilton,
editor and trad tubist;
Floyd Fessler,
copy editor;
Guy Wright, Charles Einstein
and
Bill Hall,
columnists;
Al Burgin
, deputy news editor;
Larry Beaumont
, Sunday editor;
Gina Warren
, editorial aide;
Paul Glines
, photographer; for obituaries, see
Thirty.
For a separate obit in The Geezer Gazoot, click on
Ode to Fran Ortiz
.
Lynn Ludlow
The Geezer Gazoot
tardytimes.com
October 2008