The pawnshop of life itself
HIKING DOWN the Grand Canyon of the Tuolumne Canyon in 1976, pondering the fragile state of the newspaper business, artist Don McCartney and the future Gazoot reporter drew upon "Blazing Saddles" for inspirational words. Well remembered was Mongo, a character played by the late Alex Karras.
He mumbled,
"Mongo only pawn (
pause
) in game of life."
It was years ago, but that two-week adventure on company time is still fresh in memory. Don sketched as we backpacked and paddled the length of the Tuolumne River for a five-part Examiner serious (that's how Ring Lardner's Alibi Ike described the World Serious.)
><
AFTER the Examiner was raped, Don took a buyout from th
e Chronicle in 2002. He finally landed a pretty good job with ANG Newspapers. He assumed that finally he could take a vacation without worry. With his ballerina sweetheart Zola Dishong, he left in 2006 for a week in sunny Puerto Vallarta.
"We had a great time eating and exploring," he says. "I brought back a little sunburn and a Mexican waistline. That's the good part."
Don only pawn . . . in game of life.
"The flip side is that while we were away, a major corporate reorganization took place at my office. I was let go along with my boss and another two people in the department. Out of 14 people in the department, only four remain untouched, and those who were not fired were sent to other locations. All due to having a new publisher with an accounting background and a mandate to trim the fat in preparation for the parent company, MediaNews Group, to buy the San Jose Mercury News and the Contra Costa Times. They don't care about quality now, it's just about the numbers."
><
HE decided to fly solo.
"It's been either exhilarating or death-defying," he says.
Call Don McCartney Design (925-708-0653). Or try
donmccartney.com
, and see
www.geocities.com/don_mccartney.)
He moved in with the beautiful Zola. He cherishes the teenage years of his daughter, now at Cal State Fullerton. He found many a client.
"Most of my design work is for booze companies or the ballet, not a bad mix."
If we could put words in his mouth, he could apply to ANG/MediaNews yet another line from "Blazing Saddles."
"Oooh, baby," says the new sheriff, played by the late Cleavon Little. "I'm so talented (pause), and they're so dumb."
A warrior returns to Little Rock

MELBA BEALS, chair of the Department of Communications at Dominican University in San Rafael, joined fellow members of the Little Rock Nine last year for a 50th anniversary celebration at Central High School, now a National Historic Site.
Melba and the others integrated the school in 1957 despite unruly crowds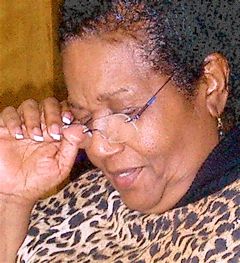 of racist whites and the fiery opposition of Gov. Orval Faubus to the U.S. Supreme Court's 1954 decision to rule school segregation unconstitutional.
She was 15, escorted all year to classes by armed soldiers of the 101st Airborne Division and the National Guard.
That's how bad it was during the first serious test of what has been described as "the national resolve to enforce black civil rights in the face of massive southern defiance."
She later studied journalism at SF State and earned an MA in journalism at Columbia University.
Her experiences are chronicled in her first book, "Warriors Don't Cry," and in a memoir, "White Is a State of Mind."
A close friend of former President Bill Clinton and an enthusiastic supporter of Hillary Clinton, she was greatly disappointed in the former First Lady's loss to Barack Obama in the primaries.
Melba had to put off work on her doctoral thesis last year when advised that she risks congestive heart failure unless she loses a lot of weight. She's trying, but a painful hip replacement interfered with her mobility. Nonetheless, she was back in her office as the summer ended and students came back to the Dominican campus.
Melba and her sons now live in the Peacock Gap district of San Rafael. Her daughter, Kellie, now resides in Mill Valley while she completes her own doctoral studies. Melba's handsome twin sons, Matthew and Evan, attend high school.
As for Central High School, Melba found a student body that's 53 percent black, 43 percent white. It's is generally regarded as the best public high school in Arkansas.
Forgotten Glory
ON APRIL 2, 1943, the New York Times reported that Patton's tanks were chasing the Desert Fox in Tunisia. More than 100 Flying Fortresses bombed Sardinia. The War Production Board ordered the sock industry to save 14 million pounds of rayon and cotton per year. And in Madison Square Garden's basketball court, the nation's first-ever collegiate champ-ionship playoff ended with a surprise.
Few noticed.
St. John's, hometown winners in what was then the more prestig
ious National Invitational Tournament, expected to dominate the NCAA champions from the University of Wyoming. Instead, the city slickers from Queens lost in overtime to a team called the Cowboys or, as they say in Laramie, the Cowpokes.
Scoring 20 points for the hayseeds was center Milo Komenich, who stood 6 feet, 7 inches and weighed 212 pounds in an era when a 6-footer was called "lanky." An urban cowboy, he grew up in the Serbian enclaves of Gary, Indiana. Instead of aiming for a good job in the steel mills, he worked on his running hook shot at Lew Wallace High School. It would have taken him to glory, but the war was on.
He was named twice as an All-American. He was MVP of the 1943 All-Star Game in Chicago. World War II then shut down collegiate basketball. It was 1946 before Milo rejoined the Cowboys. He later played AAU ball with teams representing 20th Century Fox
and Dow Chemical. He turned pro with the Fort Wayne (later, the Detroit) Pistons. He spent a year in the infant NBA with the Anderson (Ind.) Packers, but by then he was 29.
Along the way he became the father of a lad named Kim, who prefers to shoot pictures instead of hoops.
Milo died in 1977, 10 years before his son won a Pulitzer Prize for photography at the Examiner. At the Chronicle since the staff merger in 2000, Kim is working on a documentary. He wants to revisit that April Fool game that won a national championship but didn't get much attention, understandably, in the year of Stalingrad, the fall of Mussolini and the invasion of the Solomons.
Quickly forgotten was the generous assessment of Louis Effrat, the New York Times sports reporter who, like most of the 18,000 New Yorkers in the arena, was disappointed when the Queens team lost to the Cowboys. But he wrote, "Winner of 27 games, king of the NCAA, this crew of rip-roaring swashbuckling big men merited every honor, every handshake and every backslap that came their way . . . "
His son wants those words to come true – 65 years later.
Lance and Mark finally get walks
THE CHRONICLE'S hard-working Bob Egelko duly reported the quote on Aug. 13, 2008, but what did it mean? It came from Debra Wong Yang, the former U.S. Attorney in San Francisco. She spoke in a panel discussion right next to the Chronicle's Lance Williams.
She had invested about two years in trying unsuccessfully to jail him and fellow reporter Mark Fainaru-Wada for not ratting out their secret source.
But she said, "Putting a reporter in jail is not a good score."
Did she say "a good score?"
By then, the judge vacated the contempt order. Mark left the paper and signed on with ESPN.
Two days after Chronicle colleagues congratulated Mark at a send-off dinner on Nov. 7, Yang's successors announced a long-delayed indictment of Giants' multimillionaire outfielder Barry Bonds. He is charged with obstruction of justice and perjury based on his telling a grand jury that he had never knowingly used steroids. For the first time, the newspaper had a single byline (Lance) on a Balco story. But if you tuned into the sports channel, there was a new ESPN commentator (Mark).
Lance told Editor & Publisher that he didn't see it coming. He had predicted that the bulked-up slugger would never be indicted. The veteran investigative reporter had taken considerable abuse from fans and management of the San Francisco baseball club, but he said, "By the time we are done with this, the public will get to see all of the evidence that has been kept secret."
What's more, the public will get a chance to see a movie version of Lance and Mark's "Game of Shadows," which Gotham issued as a hardback in March 2006 and as a paperback a year later. (It squashed sales of "Love Me, Hate Me," Jeff Pearlman's unauthorized biography of Bonds. Based on 524 interviews, it was crippled by unfortunate timing. It came out a month after "Game of Shadows.")
Lynn Ludlow
The Geezer Gazoot
tardytimes.com
October 2008