AFTER he departed from the Chronicle, ousted managing editor Jerry Roberts probably thought that at least he wouldn't have to play second banana to Phil Bronstein. As the new editor of the Santa Barbara News-Press, the banana would stop with him.
It didn't work out that way.
On Nov. 6, 2007, Jerry beamed as celebrities and colleagues applauded him in a Beverly Hills hotel. PEN, the international writers' society, handed him a First Amendment Award for ethical journalism. It honors "those who have courageously, and often at great personal loss, defended freedom of expression."
Unfortunately, the late Joe Liebling was again proved right when he wrote,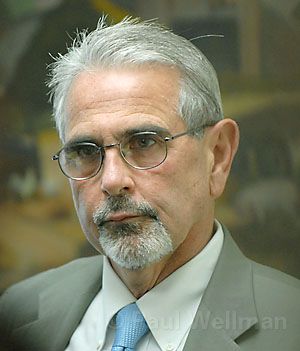 "Freedom of the press is guaranteed only to those who own one."
Jerry is no longer in a position to defend anything but himself and staffers who quit or were fired after he was escorted out the front door of the News-Press in 2006. They were protesting what they saw as journalistic improprieties by the novice publisher, millionaire widow and aspiring socialite, Wendy P. McCaw.
But at first Jerry must have congratulated himself on landing a good job on a lively paper recently unchained from the New York Times. It was purchased by McCaw in 2000 with some of the $450 million settlement reported after her divorce in 1995 from billionaire Craig McCaw of McCaw Cellular.
A Stanford graduate and animal rights activist, she once approved an editorial that opposed turkey dinners on Thanksgiving on grounds that the birds are "unwilling participants." The relationship with Jerry went south when she leaped from the editorial pages and began to interfere with the news, later accusing Jerry of biased reporting by his staff.
It took an ugly turn when a front-page headline proclaimed, "News-Press seeks exam of computer used by ex-editor Roberts containing child porn." The unsigned story reported that Jerry's office computer contained 15,000 images of child and adult porn. It appeared without a response from Jerry.
A. Barry Cappello, a lawyer representing McCaw, told the Los Angeles Times, "The company had a crime being committed on its premises . . . Somebody at that paper at some time – maybe it's a current employee or another former employee – did this, but it is a crime. And we are going to root it out."
So far, no rooting.
Jerry called it instead "a desperate attempt to destroy my reputation." He said the computer had several other users. A lie detector operator said Jerry passed with a high score.
><
MORE THAN 50 News-Press employees – a precise number is lacking – have been dismissed or left voluntarily since Jerry resigned. Sixty others, mostly in jobs not connected with news and editorial, lent their names to a full-page ad that expressed support for the publisher.
McCaw has said the former staffers disagreed with "goals to improve the quality of the paper, to have accurate unbiased reporting, and more local stories that readers want to read." She added, "They no longer would be permitted to flavor the news with their personal opinions."
Linda Strean, alumna of the Examiner and later the Chronicle, is media affairs boss for the UC Public Policy Institute. She has written, "As Jerry Roberts' colleague of many years (two of them as his managing editor at the News-Press), I've watched from afar as our former employer has marshaled her considerable fortune to personally attack an honorable man and talented journalist."
She asked for donations to the defense fund, the Lawyers Alliance for Free Speech Rights, PO Box 22557, Santa Barbara CA 93121.
><

"THE SLEAZE gets deeper," said Barney Brantingham, veteran columnist for the News-Press. Wait. He's still a columnist, but he writes for the Independent, a weekly that truly deserves to be called an "alternative."
Brantingham was joined this summer by Jerry, whose blog on politics, the punningly named "Capitol Letters," now appears in the Independent
http://independent.com/blogs/capitol-letters/
. Jerry, who is being treated for non-Hodgins lymphoma, has a day job as director of student publications, including the Daily Nexus newspaper, at UC-Santa Barbara.
Most of his News-Press newsroom staffers have quit, but eight were fired. They claim it was because of a crackdown on their efforts to join the Teamsters Union. That was the subject of a summer hearing by the National Labor Relations Board.
For more, ask Google for
http://en.wikipedia.org/wiki/Santa_Barbara_News-Press_controversy.
It has 10 times the usual word count for Wikipedia articles. They are festooned with 123 footnotes, most with links to sources. One paragraph reports that in April the News-Press computer system blocked access to Wikipedia along with YouTube, Facebook and three blogs.
"I repeat my prediction," said Brantingham in his column about the NLRB hearings. "Law Judge William Kocol will rule against the News-Press on all or most of the unfair labor practices, and Wendy will appeal it well until the next century, if necessary."
The Audit Bureau of Circulation is reported as saying the News-Press daily circulation in the half-year ending March 30 dropped about 7 percent to 35,755.
Wendy has sued Jerry (for $25 million), the Independent and the American Journalism Review. Jerry has sued her for $10 million.
"This is an unspeakable outrage," said Jerry's supporter Marianne Partridge, who edits the Independent. She was former editor of Rolling Stone and the Village Voice.
"This is disgusting."
The Geezer Gazoot
tardytimes.com
July 2008