WHEN NEXT she visits San Francisco,
Rebekka Struik
will find on her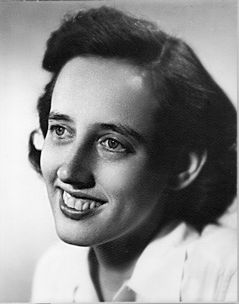 daughter's dining table a rediscovered, newly framed photo of youthful beauty.
The smiling face is that of Rebekka herself, then a young woman who would earn a doctorate in mathematics and give birth to
Marion, Margo
and
Lulu.
Her Czechoslovakian mother, Saly Ruth Ramler, who earned her Ph.D in 1918 with a dissertation on "the axiomatics of affine geometry," was believed to be the first woman to receive a doctoral degree in mathematics in the 500-year history of the University of Prague. (Years later, with a grant and the use of Harvard's Widener Library, Ruth finally was able to publish her dissertation.)
Rebekka's father, Dirk Jan Struik, Ph.D, who married Ruth in 1923, was a Dutchman who left the Netherlands to be appointed in 1928 as a professor of mathematics at the Massachusetts Institute of Technology. A highly acclaimed historian of science, he was a lifelong Marxist. His "Concise History of Mathematics" (1948) is still in print, but Dirk was also fascinated by New England's pioneering thinkers and inventors ("Yankee Science in the Making," 1962).
><
WOMEN then (and now) have been largely excluded from leading universities where brilliant (male) professors are encouraged to blend teaching with research into unsolved problems on the frontiers of mathematical sciences. Rebekka would be the last person to blow her own horn, even to her family. But her grandchildren need to know about her achievements in a male-dominated world.
After growing up in Belmont, Mass., and graduating from Swarthmore College, Rebekka was beginning her postgraduate career when the Red Scare of the 1950s caused her to leave the University of Illinois and lose a promised internship at Northwestern University. She finally earned her own Ph.D at New York University in 1955 (her dissertation, which had nothing to do with sociology, was entitled "On Associative Products of Groups"). Her marriage to Hans Freistadt and the births of her daughters took her from New Jersey to Vancouver, B.C., and finally to Colorado, where she began the teaching and research that would eventually, after many frustrations, win her tenure as a full professor of mathematics at the University of Colorado.
In the meantime, while trying to rear her daughters and distracted by divorce from Hans, she published numerous papers on Group Theory in journals from London to Canada to the U.S. (The titles have meaning only within the math world. Examples: "On Verbal Products of Groups," "On Nilpotent Products of Cyclic Groups," "Engel Congruences in Groups of Prime-Power Exponent," "Partial Converses of LaGrange's Theorem" and a 1982 commentary, "Some Non-Abelian 2-Groups with Abelian Automorphism Groups.")
><
HER MOTHER died in 1993 at the age of 99. "When asked what he missed most when he turned 100," wrote one of his admirers, "Professor Struik said simply, 'My wife.' " He died in 2000, aged 106, 46 years after he retired from MIT.
Rebekka's interest in the history of mathematics, a legacy from her father, took her to the 1997 meeting of the American Mathematical Society with a paper entitled, "Pascal and the Problem of the Points." Her other interests are reflected in another paper, "Women Mathematicians," presented at a conference in Portland on "Gender Issues in Math and Science."
Two years later, she retired from the University of Colorado. She told a university publication that she has been active in the League of Women Voters, Boulder Bicycle Commuters and "community knitting." Also: "I've been going on hikes and trying to learn wildflower identification."
Rebekka
(at left)
lives in Boulder but often visits her grandchildren –
Kenny Ludlow,
daughter of
Margo Freistadt
in San Francisco, and
Shafir Wittenberg,
son of
Marion Freistadt
in New Orleans.
She continues her lifelong activism on issues of social justice and progressive politics. Her daughters plan to visit her in Boulder to celebrate her 80th birthday. She's still beautiful.
><
WHEN SHE changed her name legally to
"LooEase Fries'dat,
" we adopted instead her stage name, Lulu, from her hip-hop CD, "Voodoolulu." To
Joseph Illidge
, her boyfriend, she's simply Lou. (Luckily, she never heard of "The Shooting of Dan McGrew" and Robert Service's anti-heroine, the Lady Known as Lou.) After their visit to San Francisco in January, Joe and Lou drove north to take a long look at Portland. They are thinking seriously about saying goodbye to Manhattan, where she has been an actor, rap singer and video editor. Joe has spent most of his life in New York City. Oregon would mean farewell to her rent-controlled apartment in Hell's Kitchen, now renamed Clinton. But it could also mean hello to an affordable home of their own. Despite Portland's renowned boredom, the metropolis once known as Stumptown (aka "City of Roses") is far indeed from what Gibbons called (thank you, John Bartlett) "crowds without company." As of July, however, doubts began to emerge. Joe has a contract to work until next spring and is working on a novel, and Lulu is still trying to edit news videos while raising funds for her documentary on people who don't vote (
see Film Notes
). New York, New York.
><
ALSO VISITING FRISCO last winter: Margo's elder sister,
Marion
, and her precocious 8-year-old son,
Shafir
, who is enrolled at New Orleans Jewish Day School. Her life has changed greatly since Katrina forced them to flee New Orleans in 2005. Its power failures thawed the polio viruses that she studied and caused other biohazard catastrophes that closed the downtown LSU Medical Sciences Center. It put an end to her scientific investigations and, as it turned out, her 13-year tenured professorship at Louisiana State University.
Readers of the last Tardy Times will recall her difficult times that year. Since then she has taught at Tulane University, Our Lady of Holy Cross College and Xavier University. She is now teaching at a junior c0ollege, Delgado. In the meantime she enrolled in an MBA program at the University of New Orleans.
"Logically, in this country we have thousands of talented, skilled, dedicated researchers who want nothing more than to do basic research to solve problems," she wrote. "Moreover, we have an NIH budget in the hundreds of billions. Yet, the majority of these researchers are unable to function optimally. They either spend most of their time fighting for money, or have given up fighting for money. The result is waste of money, material and human effort, with the net result that less scientific problems are solved. This is not a resource issue. It is a management issue."
Marion, who now has an MBA to go with her Ph.D, said, "I have a lot of ideas now."
><
Barely Visible

THE GRAND adventure had barely begun last February when
Hans Freistadt
, M.D., Ph.D, arrived at La Quinta Hotel in Sacramento and realized he had left his passport back in Oroville. It cost him and
Sherry
a night of driving forth and back, allowing only an hour before their flight to Fort Lauderdale.
Margo's newly octogenarious father would need the passport for a 10-day, 3,000-mile voyage aboard a Dutch cruise ship. The SS Maasdan would carry them to five Carribean islands with 1,200 other paying passengers, most of them naked.
After the Bare Necessities Travel Club took them to Bonaire, Curaçao, Dominica, St. Thomas and Half Moon Cay (Bahamas), Hans commented:
— Sherry has been most helpful in getting me across rough spots, but especially in putting up with my extreme slowness. In fact, I would describe her as angelic.
— We did see perhaps a dozen or less people under 40 and perhaps under 30, There were no children. I managed to lose two hats and bought three hats so as not be completely hatless.
— Some passengers run around naked in other parts of the ship, especially the cafeteria, but only when we are in the high seas. . . Nudists come in all ages and I am, much to surprise, not the oldest passenger
– Nudists come not only in all ages, but also in all sizes. For the some the size is definitely way too large.
><

IN ADDITION to their frequent trips to medical meetings and conferences, Hans and Sherry traveled in December to Vienna to celebrate the 80th birthday of his sister,
Lisa Lange
. Then they stopped in London to see his cousin,
Berta Freistadt
, who after her mastectomy was back in Kilburn (see the
Margo and Berta
page). In October, they were off to another meeting in Montreal. Hans continues with what he calls "his slow, limited practice in medical gynecology and primary care mostly for fun and for the love of it, with little financial revenue." Sherry may quit nursing to start her own business, but for now she works days in "chart review" . . . Her mother,
Margie Cole
, who was moved to the Shadowbrook Health Center in Oroville, died in August.
><

DELISA FREISTADT
and her friend
Betty Burns
followed her father and our pal
J.P. Uhlrich
as visitors to Berta in London. Returning to Chico, she still gets up every day before the crack of dawn as the baker at the Café Flo. When her Blue Room Theatre was captured in what described as a "politico-financial coup," she joined most of the angry volunteers in organizing a rival dramatic group, the Rogue Theatre Collective.
The stage manager, Delisa emerged from behind the scenery to take a leading role in "Killer Joe." (See
Stage Notes
.) And with Betty, she bought a little house on one of the nice, shady streets of Chico.
As his sister settled down in Chico, her brother
Benny Freistadt
left for the big city. After an eventful summer in 2007, he spent one last semester at Chico State. It's pilloried, perhaps unfairly, for partying. In the spring he transferred to SF State, known instead for sobersided students.
Benny has tentative plans to become a pharmacist. Margo converted part of her garage/shop into a guest room for her younger brother. He spent the summer working in Oroville but now is back for another stint at SF State.
><
GWEN AND ROGER BRAY
, Margo's aunt and uncle in New Zealand, published their 35-year scientific survey, "Fish Populations in a Tidal Estuary in Marlborough Sounds, New Zealand, from 1971-2004." That doesn't mean they quit the fish census from the inlet at their bach (getaway cottage) at the hamlet of TeMako on the South Island near their home in Nelson. The study, they reported with regret, "is recording new records of minimum weights and lengths." A year ago, they helped publish "Story of Friends of Nelson Haven and Tasman Bay," an account of the oldest coastal conservation organization in New Zealand.
Returning to Kiwiland last year was their athletic daughter,
Melissa
, who bought a house in Wellington and settled in with her brand new baby,
Theo
. After leaving Lausanne, Switzerland, she continues to work online, writing stories for the International Rowing Federation.
Note from Gwen in October 2008:
While working for the Rowing Federation, Melissa was interviewed by Beijing TV. From then on she and 11-month-old Theo were constantly recognised and photographed and eventually couldn't go to the supermarket without the aisles being blocked. So she has warned us never to become celebrities, and we are working hard at it.
Naomi and Ron organise classic car races, and son Benjamin enjoys Yugioh card tournaments and studying Japanese.
Hanna is working part time for a landscape architecture company, and Douglas flies all over the world for a maritime GPS company. Fifi (Sofia) and Isobel are into role playing and make believe.
The Friends of Nelson Haven & Tasman Bay, which Gwen co-chairs, has been able to slow the over-expansion of mussel farms and make progress on marine and shoreline planning. She's also learning to hula hoop and salsa dance: It's good fun and helps head/body-limbs coordination.
Roger is aligning environment gradients in our warm temperate rain forests with a vegetation ordination, and he had a small party to celebrate his accurate macroeconomic prediction of the global meltdown.
We hesitated publishing her little report. It could have been the final push for too many in the Tardy Times community. If John McCain were to win the election, they might have applied for emigration to Kiwiland rather than endure another four years of the nation's worst leadership since James Buchanan and Franklin Pierce. Instead, as the results were confirmed on Nov. 4, the champagne cork went off like a firecracker. We toasted Barack. Then we toasted ourselves.
The Tardy Times
tardytimes.com
September 2008